Review: Belkin USB Parallel Printer Adapter For Mac
by Steve Becker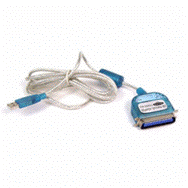 The Belkin adapter includes a built-in USB cable.
Company: Belkin
Contact: www.belkin.com
Price: $69.95 (SRP)
Requirements: Mac OS 8.6 or later and a Mac equipped with a USB port
Belkin's USB Printer Adapter allows you to connect a printer with a Parallel port to a Mac's USB port or to a USB hub. There are several reasons you might want to do this; for example, if you need a printer for your Mac and already have a working printer with a Parallel port, using the adapter is less expensive than buying a new printer.
Another example applies to my situation: I have two Macs in my office and a HP LaserJet printer that has both a USB and a Parallel port. I could spend almost $200 on a network card for my printer, but at less than $70 Belkin's adapter is a less expensive alternative -- with the adapter, it was possible to connect the printer's Parallel port to my second Mac. Of course, if you want to do this, you need to make sure your model of printer permits the simultaneous use of both of its ports
Belkin supplies driver software (MacJet™) that supports the adapter and a large number of printers (the Belkin web site maintains a list of supported printers.) Installing the software is easy, and for the most part the MacJet™ software and the adapter have worked quite well on my OS 8.6 test system.
The only limitations/problems I've experienced appear to be due to the MacJet™ software: my printer supports a 1200 dpi resolution, but MacJet™ doesn't support a resolution over 600 dpi; also, my system will freeze soon after I turn on the background printing option. While the 600 dpi limitation applies to all users, it's possible the background printing problem doesn't apply to all systems.
If you have a combination of equipment that can utilize this adapter, it's definitely worth a look!
Pros: Relatively inexpensive, easy to install, and works as advertised.
Cons: The MacJet™ driver software has some limitations.
© Steve Becker. All rights reserved.
Top of Page
|
MacEase Home Page