Updated 12/1/03
Latest Cool Accessories For Your PowerBook
by Steve Becker
Apple's PowerBooks and iBooks are incredibly flexible computers, and companies keep coming up with new ways to take advantage of the versatility of these Macs. Listed here are reviews of some of my favorite new accessories for PowerBooks and iBooks.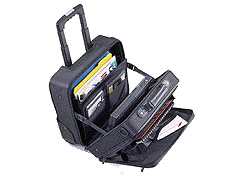 Company: Targus
Contact Info: 877-482-7487, www.targus.com
Price: $199.99 (SRP)
First off, when traveling it's important to have a good case for carrying and protecting your Mac and its accessories. The Targus CURC1 case has a rigid frame, lots of useful storage areas for your accessories, and a well-designed, padded area for protecting your Mac. The only thing it (and all the other cases I've seen) is lacking is a well-protected compartment for expansion-bay drives.
At 17" x 16" x 9.5", Targus says the case should meet the carry-on requirements for most airlines (it's always a good idea to check in advance with your airline about the latest requirements for carry-on bags).
The solid construction of the CURC1 results in a weight of 11.6 lbs. Fortunately, the CURC1 includes a comfortable carrying handle, as well as a telescoping handle and wheels.

---
Once you have a carrying case for your portable Mac, most likely you'll want a way to keep it protected from prying eyes and hands and any potential thieves.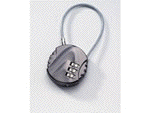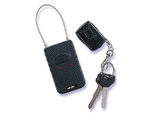 My favorite low-tech antitheft device is the Targus Defcon TL travel lock. It features a solidly made combination lock, a vinyl coated stainless steel cable, a low weight of less than 2 ounces, and a low SRP of $19.95 for a package of two locks.
On the high-tech end, Targus offers the Defcon 3 Remote. This neat little device measures 3.45" x 2.1" x .63" and weighs only 3 ounces (including the batteries). The Defcon 3 attaches to your equipment with a stainless steel cable and can be controlled with the included keychain remote control unit.
You can configure the Defcon to play any one of six siren sounds, and its motion sensor can be set to either a low or high sensitivity mode; if the cable is cut, the siren automatically sounds. The Defcon 3 has a SRP of $39.99.

Company: Kensington
Contact Info: 800-235-6708, www.kensington.com
Price: $39.99 (SRP)
Kensington offers the SonicLock as its answer to users' concerns about protecting their portable Macs from theft. The SonicLock resembles a combination padlock and features a motion detector with three sensitivity settings.
The SonicLock weighs about 6 ounces, and when it's triggered it produces both a loud alarm and a flashing light.

Company: Brooktone
Contact Info: 800-926-7000, www.brookstone.com
Price: $15 for set of 3 locks (SRP)
While not designed specifically for your Mac's carrying case, this combination lock is very compact, srong, and inexpensive.
When the openings on the pull tabs of your carrying case's zippers are large enough for its metal hook, this lock is a good alternative to the more expensive Targus Defcon TL.

Company: Voltage Valet
Contact Info: 800-247-6900, www.voltagevalet.com
Price: $6 for one lock (SRP)
Voltage Valet's 2CL locks may be the solution when the openings on the pull tabs of your carrying case's zippers are too small to accommodate most locks.
These combination locks feature a fairly long and unusually thin shaft that works with zippers that are too small for most other locks.
---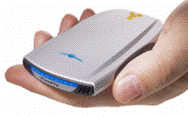 Company: SmartDisk
Contact Info: 941-436-2520, www.smartdisk.com
Price: $299.95 (SRP)
SmartDisk's new FireFly hard drive is a great accessory for PowerBook/iBook users because it's so incredibly light and compact!
When traveling, some of the suggested uses for the FireFly include using it for backing up your portable computer, adding storage capacity to your portable Mac, and transporting sound and video files.
A full review of the FireFly provides much more information about this wonderful little drive!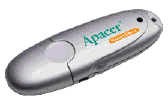 Company: Apacer
Contact Info: 408-922-2671, www.apacer.com
Price: See review
Recently, there has been a proliferation of ultra-lite (less than one ounce) and ultra-compact USB Flash Memory Drives on the market. Apacer's Handy Drive stands out because of its comprehensive set of standard features.
For example, when used with OS 8.6 and 9.x, the Handy Drive doesn't require installing a driver. Additionally, the Handy Drive includes a write-protect switch, a cover for its USB connector, an activity light, and flash ROM to facilitate updating its firmware.
Apacer's drive is compliant with the USB 1.1 specification and comes in capacities ranging from 16MB to 1GB. When testing the drive on a G4/450 that's running OS 9.0.4, I observed read and write times that ranged from 300-500KB/sec. Other than occasionally not mounting unless the computer was restarted, the Handy Drive worked fine.
Street prices start at around $39 for the 16MB unit and go up to about $1100 for the 1GB unit. When size and weight matter more than high performance and cost per megabyte, this drive warrants serious consideration. If you can accommodate a few additional ounces and slightly larger dimensions, the SmartDisk FireFly drive offers vastly superior performance at a much lower dollar-per-megabyte cost.
---

After having used an optical mouse with my desktop Mac, I find it really inconvenient and inefficient to use a Trackpad with my PowerBook. Fortunately, Kensington offers two excellent solutions for this situation.

The diminutive PocketMouse (the picture on the left) is a very small (3.5" L x 2.25" W x 1" H) optical mouse that includes 3 programmable buttons and a scroll wheel. This mouse is so small and lightweight that it's easy to pack with your portable Mac.
The PocketMouse is designed to work with the highly customizable MouseWorks software (this can be downloaded from the Kensington web site). Included with the PocketMouse is a travel pouch and an attached 3 foot USB cable. By the way, my G3 PowerBook doesn't have a USB port, but the PocketMouse works great with my USB CardBus Card.
With a SRP of $29.95, this is both an affordable and a terrific accessory for your PowerBook/iBook!
At 4.375" L x 2.25" W x 1.5" H, the PocketMouse Pro (the picture on the right) is considerably larger than the PocketMouse, though it's still a compact optical mouse. Part of the extra size of the PocketMouse Pro is due to its convenient retractable USB cable being stored inside of the mouse.
As with the PocketMouse, it works with the downloadable MouseWorks software, and it has a SRP of $39.99.

---

If you've ever needed to use your Mac on an airplane only to find that your overhead light doesn't work, you should consider taking a look at Kensington's USB FlyLight.
The FlyLight's adjustable cable retains its position, and the whole thing weighs less than 2 ounces. Kensington says the FlyLight is stingy with power, using less than 90 seconds of battery charge for each hour of use.
Another good use for the FlyLight is when you want to use your computer at night and using a regular light would disturb someone else. While the FlyLight's light covers a fairly small area, it can really help in what would otherwise be a nearly completely dark environment.
My FlyLight has a white LED, but Kensington also sells a version that has a red LED (Kensington says this improves night vision). The FlyLight has a SRP of $19.99.

Like the FlyLight, the FlexClip has a flexible cable that retains its setting. The FlexClip can be used either with your desktop or your portable Mac, and its small size and light weight make it a very convenient and practical item to pack with your PowerBook/iBook.
I use the FlexClip with my FlyLight since I use a USB CardBus Card with my PowerBook and the dongle on the CardBus Card won't let me position the FlyLight. Using the FlexClip, I'm able to anchor the FlyLight to my PowerBook.
A thoughtful feature of the FlexClip is that it uses rubber guards on the inside of its clips to prevent the marring of the surfaces you attach it to. The FlexClip has a SRP of $7.99.
---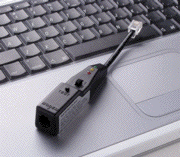 Company: Magellan's
Contact Info: 800-962-4943 ,www.Magellans.com
Price: $19.85 (SRP)
Many users don't realize that plugging their PowerBook's/iBook's modem into the wrong type of phone line can fry the modem. Also, as is the case when using a computer at home, a power surge can enter your computer through the phone line and do considerable damage to your PowerBook/iBook.
The nifty little "Digital Phone Line Tester" from Magellan addresses both of these potential problems and also tests for lines that have reversed polarity.
Using Magellan's phone line tester is both fast and easy. Because the phone line tester is very light and compact, it's easy to take the unit with you when you travel.
(Please note: while Magellan's phone line tester provides some protection against electrical surges entering your portable computer via the phone line, it's still a good idea to avoid connecting your computer to a phone line during a thunder storm.)
---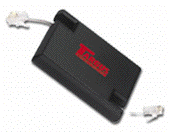 As you accumulate more accessories for your Mac, it's easy to find yourself traveling with a morass of cables that all too often get tangled up with each other. While the Targus Retractable Telephone Cord doesn't completely solve this problem, it is a step in the right direction.
Its two, 4 foot cords provide 8 feet of overall length, and each cord has a RJ-11 connector that fits standard Mac modem ports and phone line jacks. At a mere 3" x 2" x .5"and 1.5 ounces, it's easy to carry the unit in your pocket or your computer's carrying case.
If you need more than 8 feet of overall cord length, you can use the built-in coupler to attach an additional telephone cord -- or just get a second Targus Retractable Telephone Cord! The Retractable Telephone Cord has a SRP of $14.99.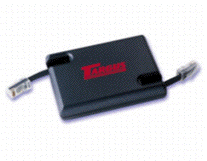 The Targus Retractable Network-ISDN Cord provides a 7 foot CAT 5 cord (a coupler is not included) and has a RJ-45 connector which works with either an Ethernet port or an ISDN port. While this device is larger than the Retractable Telephone Cord, it's still a relatively small (4" x 3" x .8") and light (2.8 ounces).
The Retractable Network-ISDN Cord includes a button for easy cord rewind and has a SRP of $24.99.
---
Company: Keyspan
Contact Info: 510-222-0131, www.keyspan.com
Price: $49.95 (SRP)
Keyspan's new USB 4-Port Mini Hub is a remarkably small device -- it's just 1 cm thick and weighs only 2 ounces! The Mini Hub couples this ultra-compact size with very low power consumption which makes it an ideal companion for your PowerBook/iBook.
Additionally, the Mini Hub is fully compliant with the USB 1.1 specification and works in both bus-powered and self-powered (a compact power supply is included) modes. As you can see from the photo, the Mini Hub even has a (short) built-in USB cable.
Each port on the Mini Hub supports 12 Mbps throughput and the hub comes with a five year warranty. This is one very cool product!
---
As I find and have time to test other cool accessories for portable Macs, I'll continue to update this page.
---
(These are the products I reviewed last year)
Cool Accessories For Your PowerBook
by Steve Becker
Listed below are my reviews of several accessories I have tested with my G3 PowerBook -- I hope you find them useful when deciding which accessories to purchase for your PowerBook!
New
Podium CoolPad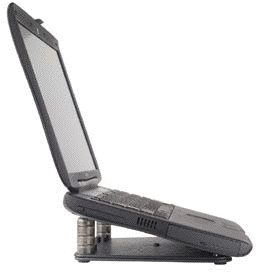 The new Podium CoolPad builds upon the excellent design and quality of the original CoolPad (still available and reviewed below, by the way).
One cool feature that is evident from the above picture is that the Podium CoolPad has the ability to use multiple spacers (each spacer is a half inch high) to adjust the height and angle of your PowerBook when it's placed on the Podium. Increasing the air space between your PowerBook and the Podium improves heat dissipation, which allows your PowerBook to run cooler (definitely a good thing) and adds additional thermal protection to whatever is underneath the Podium CoolPad.
Other differences between the Podium CoolPad and the original CoolPad include a new, trapezoidal shape, a slightly larger size, and an additional 7 ounces (the Podium weighs approximately 15 ounces).
Like its predecessor, the Podium CoolPad pivots, has a high quality "feel" to it, and is easy to pack in many types of PowerBook carrying cases. While I wish this model didn't add almost 8 ounces to the weight of the original CoolPad, it still weighs under 1 lb. and is an excellent product.
The Podium CoolPad has a SRP of $29.95 and can be ordered directly from RoadTools, as well as from Outpost.com and other retailers.

Original CoolPad
The CoolPad lives up to its name! It is very small (8.25" L x 6.5" W x .4" H) and reasonably light (about 8 ounces). The small size means that it fits easily into my PORT carrying case.
It is thoughtfully designed so that when your PowerBook is placed on top of it the top part pivots, allowing you to rotate your PowerBook (this is especially useful when you have people looking over your shoulder trying to get a good view of your PowerBook's display). By the way, the friction of the pivot point is sufficient to prevent your PowerBook from inadvertently moving while still allowing you to easily rotate your PowerBook.
A simple but useful design element places taller rubber spacers at the rear of the unit; this gives your PowerBook a comfortable, gentle tilt while simultaneously providing for better air circulation under your computer (this assists in keeping your computer cooler -- a good thing to do).
While the CoolPad is too small (for most people, anyway) to provide a comfortable insulating buffer between your lap and your laptop computer, it does prove useful when using your PowerBook on most surfaces, including airplane food trays.
This is a really cool product that is useful when travelling and when in your office/home; it literally keeps objects under your PowerBook as well as your PowerBook itself cooler!
The CoolPad sells for $19.95. More information on the CoolPad is available from Road Tools.
---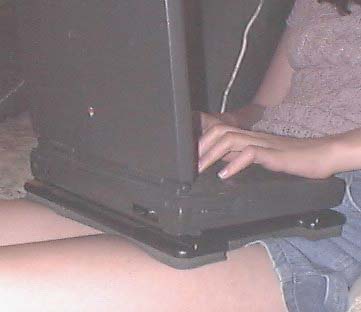 LapBottom
The LapBottom is considerably larger (14.5" W x 9.5" L x 1' H) than the CoolPad, but it is very light due its being made out of a foam-like material.
While I find this product too thick to be conveniently carried in my PORT case, its larger size makes it very useful for keeping your lap cool while using your PowerBook. The LapBottom's excellent thermal insulation also is very useful for providing maximum protection to objects that you place your PowerBook on top of.
However, even though its design includes a raised area under your PowerBook for improving airflow, I didn't notice any appreciable lowering of my PowerBook's temperature while using the LapBottom.
The LapBottom sells for $25, and more information on the LapBottom is available from LapBottom Products.


---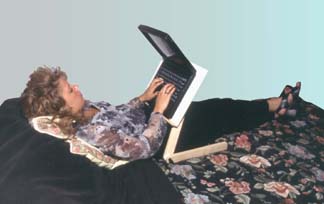 Laptop Laidback
This product allows you to work with your PowerBook in a reclined position -- definitely a cool idea!
The Laptop Laidback is made out of a combination of solid wood (my test unit was nicely finished) and a pressed wood type of material that has a washable surface. While this product is too heavy and too large to be convenient for most travelling (it may be disassembled,though), it is easy to move around a home, office, or other facility.
Because the Laptop Laidback has been designed with joints that pivot, it allows you to easily adjust its angle and height to a position that works for your particular situation. (I expect people that are bedridden will especially appreciate having this accessory!)
Since your PowerBook rests on the Laptop Laidback and not on you, there is no problem with your PowerBook becoming uncomfortably hot to work with, though the Laptop Laidback doesn't help to keep the PowerBook itself cool. All in all, this is a quality product and I expect the people that find it meets their needs will be thrilled by its unique design.
The Laptop Laidback sells for about $89. More information on the Laptop Laidback can be found at http://laptop-laidback.com/
© 2001-2003 by Steve Becker. All rights reserved.