Review: OWC Mercury Elite FireWire + USB 2.0/1.1 Combo Hard Drive
by Steve Becker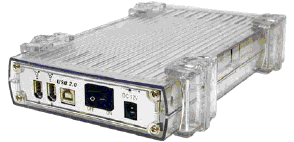 Company: Other World Computing
Contact Info: 800-275-4576, www.macsales.com
Price: $169.99-297.99 (SRP)
System Requirements: Mac OS 8.6 or later (including OS X) or Windows 98SE or higher
Availability: Currently available
At first look, Other World Computing's (OWC) combo drive appears to be an impressive package. While it doesn't come with a fancy storage case or abundant documentation, it does include both a USB and a FireWire cable, a CD that contains Intech's formatting software, and a leaflet that contains basic instructions for connecting the drive.
The drive's enclosure includes a (much appreciated) on/off switch, a port for the pleasantly small external power supply, two FireWire ports, a USB port, and a connector for the power supply's plug. Additionally, there is a useful blue LED on the front of the unit that indicates both whether the drive is turned on and disk activity.
The drive itself is a 3.5" 7200 RPM IBM mechanism that includes a 2MB cache. OWC says they use the Oxford 911 chipset in the combo drive to maximize FireWire performance. As I say, this appears to be an impressive package for its price point.
Here are the results of some simple performance tests I ran with the Mercury Elite Combo drive (my unit is 60GB). The drive was connected to a hub that was connected to the FireWire port on a G4/450 (AGP) that was running OS 9.0.4.
Copying a large file to the drive

Copying a Folder to the drive that contains
about 1800 small files

Duplicating a Folder containing about 2900 files

7 MB/Sec

.6 MB/Sec

3.9 MB/Sec
Before I performed these tests, I partitioned the drive into four volumes using the latest version of Apple's Disk Utility. (OWC says they've seen a speed gain of about 9% when they have used the supplied Intech SpeedTools software to initialize the drive.) As you can see, on my system this drive definitely is not setting any performance records!* However, I should note that when booting from the OWC drive, its performance seems snappy and not perceptibly slower then any of my other drives.
I also tested the OWC combo drive with OS X. I installed 10.2.3 on one of the drive's partitions, attached the drive to a FireWire hub, and then proceeded to see if I could boot from it. The answer is yes, as it's been working flawlessly when using it to boot my Mac!
The Mercury Elite doesn't include a fan, and this contributes to its virtually silent operation. However, too much heat can shorten the life of a hard drive, so I'm always concerned about drives that don't include an internal fan. Fortunately, while warm to the touch, in my use the drive has never gotten hot; with this OWC drive, heat doesn't appear to be an issue.
Since Apple currently doesn't supply USB 2.0 ports with its computers, most Mac users aren't able to take advantage of the drive's USB port (it can be used as a USB 1.1 device, but the performance will be too slow for most users). However, the USB 2.0 capability of the drive means it easily can be used with many PCs. Additionally, if Apple should decide to add USB 2.0 ports in the future, this drive will be compatible with them.**
The bottom line is that this is a very flexible drive that comes in a very nicely equipped package for a very attractive price!
Pros: Quiet; includes both FireWire and USB cables, two FireWire ports, a USB 2.0/1.1 port, an on/off switch, a 110v-240v auto switching power supply, and an activity/power light; is sold at a very competitive price.
Cons: Provides adequate but uninspired performance, includes minimal documentation (additional docs can be downloaded from the OWC web site).

* A lot of factors affect the performance of a drive. For example, when I copy data from my internal drive to an external drive, the speed of my Mac's internal drive also can affect the results.
My tests provide a comparison of performance between the drives that I test for a limited range of real-world tasks. Please note that the absolute performance potential of a drive is not necessarily reflected in these tests, and your particular system may produce either faster or slower results when performing similar tasks.
** OrangeMicro supplies a USB 2.0 PCI card that includes OS X compatible drivers, but I haven't tested this card.
© 2003 by Steve Becker. All rights reserved.
Top of Page
|
MacEase Home Page