A Great Bargain in a Photo Printer: Review of the Epson Stylus Photo 820 Ink Jet Printer
by Steve Becker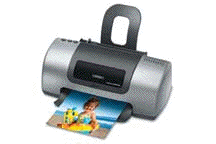 Company: Epson America
Contact: www.epson.com
System Requirements: OS 8.5.1 or later, OS 10.1 or later, Windows 98 or later, and a USB or Parallel Port
Price: $79 SRP (It pays to shop around, as I've seen this printer available online for as little as $50. I suggest checking pricegrabber.com, as well as checking dealmac.com and dealsontheweb.com for online discount coupons good at Staples, Office Max, Office Depot, etc.)
The Epson Stylus Photo 820 is a fairly compact and attractive two-tone grey printer. Unlike many inexpensive printers, the 820 feels reasonably well constructed, and it has an especially solid paper-output tray. While this model has been on the market for over a year, I've compared its output to that of the newer (and much more expensive) Epson 925 and Canon i950 photo printers. If you think this is unfair, read on!
Even though the 820 model is over a year old, it supports a large range of currently popular paper sizes and types, including borderless photo paper. The 820 also uses the same water-resistant ink cartridges that are found in the 925, which means the 820 also is a 6-color photo printer. As with the 925, the 820 can produce droplets as small as 4 picoliters for better detail and "dotless" highlights.
The setup of the 820 was very quick and easy, so it literally took only a few minutes to get the 820 hooked up to my Mac. All testing was done on a G4/450 (AGP) that was running OS 9.0.4.
As is the case with many printers, the 820 doesn't include a cable, but it does come equipped with both a USB port and a Parallel port. The printer also includes both Epson's Film Factory software for organizing, editing, and printing your pictures and ArcSoft's PhotoImpression software.
My first impression when using the Stylus Photo 820 was that it's noisier then most recent models of ink jet printers I've used, including Epson's own 925 printer. Watching how slowly the paper moved through the printer, it also quickly became apparent that this is a slow printer.
However, good things are worth waiting for, and after looking at the pictures that I printed with the 820, neither the relatively noisy printing process nor the wait seemed important -- this printer produces great looking pictures!
Overall color fidelity was very good, though it's slightly less accurate than that of the 925. Also, there is a slight tendency towards mild banding that I did not see with the 925. However, these are relatively minor items, and the pictures produced by the 820 have remarkable detail, excellent contrast, and realistic looking colors. In fact, they look better than the pictures I get from most photo labs -- all this from a printer with an SRP of $79!
As with most Epson printers that I've used, the Stylus Photo 820 goes through its ink cartridges quite fast. (In my case, I'd estimate that my color cartridge would last for about 50 4x6 glossy color prints.) This review is based on an 820 which was just shipped to me by Epson, but I also have an older version of the 820 that has a tendency towards developing clogged print heads when it's not used regularly. While this can be resolved by using the driver's cleaning utility, the cleaning process wastes a considerable amount of ink. I'll update this review in about a month to report on whether this newer (and updated) version of the 820 also exhibits this head-clogging problem.
Most photo ink jet printers aren't known for doing a particularly good job when printing text. Although the 820 does a respectable job when printing text at its higher quality settings on good quality ink jet paper, its output will not get confused with that of a laser printer. Also, as is expected with a photo printer, text output is quite slow; it takes about 30 seconds to print a page of text on plain paper using the default settings and about 3 minutes to print a page on high quality paper using the second highest quality settings.
A nice feature of the Stylus Photo 820 is that it supports both the P.I.M. (Print Image Matching) and Exif (Exchangeable Image File) technologies. The software included with the printer (and the included P.I.M. Plug-in for Adobe Photoshop and Photoshop Elements) is able to process image information that's embedded in your picture by most modern digital cameras. This information is used by printers that support the P.I.M. and Exif standards to automatically adjust the printer so it more faithfully reproduces the original image.
However, when I printed pictures from my Canon S45 digital camera (the S45 supports Exif 2.2), I got much better results by unchecking the "Exif" box in Film Factory and using the printer driver's PhotoEnhance4 and Digital Camera Correction options.
Epson Stylus Photo 820 Print Times
Paper

Print Quality

Print Time

4x6 Premium Glossy Photo Paper

Photo (High Speed Setting On)

Best Photo (High Speed Setting Off)

3 Min

9 Min, 30 Sec

5x7 Premium Glossy Paper

Photo (High Speed Setting On)

Best photo (High Speed Setting Off)

3 Min, 32 Sec

11 Min

8.5x11 Premium Glossy Photo Paper

Photo (High Speed Setting On)

Best Photo (High Speed Setting Off)

11 Min, 8 Sec

20 Min, 20 Sec
All testing was done with borderless paper.
Interestingly, using the "Photo" setting instead of the "Best Photo" setting and selecting the "High Speed" option greatly reduces the print times while having only a slightly negative affect on overall image quality.
Even though this is Epson's lowest priced photo ink jet printer, it produces prints that look better than those I've seen from any of Epson's competitors, including much more expensive models from Canon and HP. With a SRP of only $79 (and even lower street prices available), this printer is a bargain!
Pros: Consistently produces excellent photo-quality prints; text output at higher quality settings is good (for a photo printer); is easy to use and supports many media types and sizes; uses quick drying, water-resistant and fade-resistant ink; includes good software and a printed manual; a great price!
Cons: Printer not as fast as claimed by Epson; relatively noisy; tendency to produce minor banding; goes through ink very quickly.*

*PrintMagic and WebPrint Plus can more than double the life of your ink cartridges and give you instant control over what comes out of your printer.
I've done some additional testing with the Epson Stylus Photo 820 that verifies it does not still have a tendency to develop clogged print heads. Epson says this was an issue with early production units, but last year they modified the way the cartridges are capped to resolve this problem.
© Steve Becker. All rights reserved.
Top of Page
|
MacEase Home Page